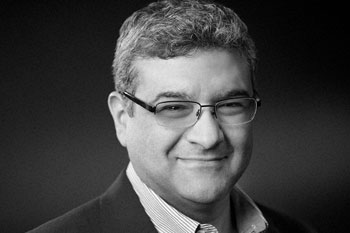 Radi Akel
Executive Vice President
Radi Akel is a highly accomplished and widely respected Media and Entertainment Executive with over 30 years of Broadcast, Production, and Post-Production industry experience; with a strong blend of strategic insight, successful negotiation, and execution strength.  He is a results-proven strategist and operations leader with a continuous record of success in driving expansion and profitability by defining and aligning vision with the organization's mission.
Radi is a passionate and proven communicator who effectively develops and leads senior management teams by empowering the staff with the tools and confidence to achieve aggressive goals.  His focus on providing exceptional client service and client solutions is well known in the industry. Radi's twenty years at Swell Pictures, one of the largest Chicago-based post production operations that provided film/video editing, design/VFX, Sound Design/Audio, and Color Correction for large advertising clients such as Leo Burnett, Foote Cone and Belding, and BBDO, saw him rise to the position of President and made him a sought after leader in the Post Production Industry.  His tenure at Swell Pictures saw incredible organic growth, a facility move to the NBC Tower in Chicago, the early adoption of Avid Technology edit systems, the addition of 3D/VFX suites utilizing Silicon Graphics and Apple Computers, the implementation of AutoCAD/Discreet Logic composite suites, and, a one-of-a-kind THX sound design audio suite.
In 2005, Radi was recruited by Harpo Studios as its' first General Manager, where, rather quickly,   Radi progressed into the key role as the Senior Vice President of Broadcast, Technical and Production Operations for the Oprah Winfrey Show. During his tenure, he oversaw Harpo Studios' conversion to High Definition and implemented their digital/web operations. Alongside managing their perconnel and facility growth, Radi also supported Harpo's creative evolution, helping to create major shows that utilized live remotes, webcasts, and prime-time specials  to broadcast their content around the world.  Radi was also a key player, instrumental with the launch of OWN, the "Oprah Winfrey Network," a joint venture helmed by Ms. Winfrey on behalf of Discovery Communications.
With OWN's move to LA from Chicago, Radi's pivoted to launch his consulting firm, providing executive and technical leadership, to illustrious clients such as Faith Hill's Sandbox Entertainment, Happy Street Entertainment, CMT (Country Music Television), the Scripps Network, Paramount TV and Dr. Phil..
Radster Consulting
Principal and Owner, 2016 – Present
Executive and Technical Operations Consulting for large and small companies specializing in Television/Media/Digital Broadcast and Production Operations. Emphasis on Production, Post Production, and Design/VFX workflow and executive leadership in best practices for corporate change and growth management.
Harpo Studios, Inc.
Chicago, IL, 2005 – 2016
Senior Vice President of Broadcast and Production Operations, 2011 – 2016
GeneralManager, 2005 – 2011
Recruited as the first General Manager in the 20-year history of the company with complete executive oversight, control, anddirection of numerous live productions and live-to-tape programming with broadcast/cable episode budgets of $400,000 to$1.8 million.
Oversaw the integration of several live productions from remote locations around the world into the Syndication,Primetime, and Discovery/OWN infrastructures, including studio and stadium shows
Created and managed annual department budgets of $3.3 million to annual corporate budgets of $73 million
Recruited and hired high-level talent, assessing abilities and expertise for placing in best-fit roles and situationsthroughout the company
Negotiated contract terms for both DGA and non-union top-tier show directors and crew, vendor purchases, leases, andvenue agreements
Led the digital archiving of 9 million photos and the HD/digital hi-res show archive of 12,000 programs
Created a positive and productive synergy throughout the organization by focusing on communication,collaboration, and cooperation across all departments and staff
Notable Achievements
Collaborated in leadership role of live broadcasts with simulcasts of live streaming online, on Sirius/XM, and skype,winning an Emmy for creative and technical excellence in Social Media
Pioneered successful transition of Harpo Studios and The Oprah Winfrey Show to high definition during eight-weeksummer hiatus while maintaining facility operations for productions and editorial
Drove expansion of The Oprah Winfrey Show to include but not limited to Oprah Winfrey Prime Time Specials, OprahRadio (Sirius XM), com, The Dr. Oz Show, and OWN
Successfully spearheaded the transformation of 300+ staff and daily freelance technical, production, and supportteams into cohesive studio/field team to create programming that became the standard for television production anddaily broadcasting
Recognized by the President, CFO, and HR Director for creating and implementing a viable health benefit plan atminimal costs for permanent staff and freelance contractors
Streamlined technical and operational workflows that reduced expenses while increasing efficiency andprofitability without adding to headcount in the organization
Oversaw and coordinated the design, construction, and technical configuration of pre-recording and liveproduction/post studio in Maui
Highlight of Special Programs with Harp Studios
Oprah Farewell Shows at the United Center 2011
• Two shows with A-list talent in entertainment and sports honoring Oprah Winfrey's 25 years in television.
Oprah's Australian Adventure 2010
• Four shows shot and produced in various Australian cities culminating for the final show at the Sydney Opera House. Set up operations for producers and editing team in the Hotel Intercontinental in Sydney, Australia. Created the continent's largest post facility (14 edit, 1 edit server /tech, 1 audio, and 2 graphics rooms) for two weeks on one hotel floor.
Oprah's After Oscars Shows 2006 – 2010
• Oversaw the annual set up, operations, and production of The Oprah Winfrey Show Live from the Kodak Theater at 9 a.m. Monday morning after the Sunday evening Oscar telecast. Created a post-production and producer facility on the seventh floor of the Renaissance Hotel adjacent to the theater and connected through fiber technologies.
The Oprah Winfrey Season Premiere Block Party on Michigan Avenue 2010
• Kicked off Season 25 of The Oprah Winfrey Show with a star-studded show featuring The Black Eyed Peas, James Taylor, Jennifer Hudson, and Rascal Flatts on Michigan Avenue's the Magnificent Mile in downtown Chicago. The flash mob opening is still replayed on various online sites and news programs.
The Presidential Inauguration Shows with Oprah Winfrey 2009
• Two shows shot and produced with live audiences in Washington, D.C. for the inauguration of President Obama. One show produced at the Kennedy Center and one live show produced from the District's center.
Maui Studio included kitchen/interview set, audio mixing with VO booth, editorial, lighting grid/board, switcher for live broadcasting and streaming, cameras, PTZ overhead camera, and green room
Swell Pictures Inc.                                                                                                                         Chicago, IL, 1985 – 2005
President, 2003 – 2005
VP Director of Operations, 1994 – 2003
Successfully progressed career from entry-level role out of college through various post production/production and operation management positions to being selected by executive leadership and ownership as president.
Drove and oversaw the expansion and move of the post house and staff–9 avid, 2 telecine, 3 audio, 4 onlineconform/mastering, and 4 design/graphics/animation suites–to the NBC Tower
Featured in Architectural Digest and all trade magazines for superior design and technical excellence of post build out ofmove to NBC Tower
Led the design and build out of Chicago's first THX-licensed surround sound audio suite
Memberships
The Hummel Post Production Benefit Fund
Founder and Board of Directors Member,  1994 -Present
A nonprofit organization that provides funds for post-production and production individuals and families thathave experienced financial hardships due to illness, injury, or
Illinois Production Alliance
Board of Directors Member, 2011 – 2015
Mission Statement: To facilitate the creation and retention of audiovisual media production opportunities andworkforce diversity in Illinois through legislative action (The Illinois Tax Credit), sponsorship, and
The Association of Commercial Producers (AICP)
Member, 1989 – Present
The Association of Commercial Editors (AICE)
Member, 1989 – Present
Education
Northern Illinois University
B.S. in Communications with emphasis in Radio/Television/Film DeKalb, IL
University of Chicago
Business & Accounting Certificate Courses, MBA Curriculum